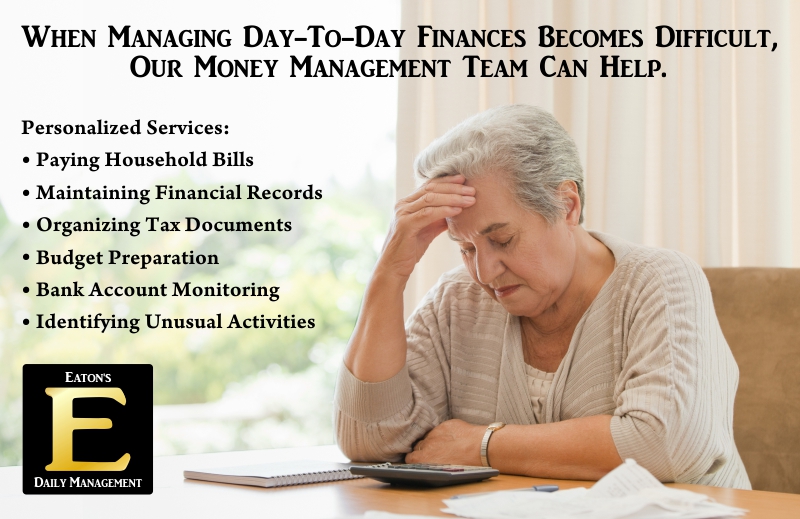 Few situations challenge today's families more than filling the needs of their aging loved ones. In many ways, the problems are new: We're living longer, may be geographically distant from each other, and are subject to more intense time pressures than ever before.
When elderly people cannot handle daily finances or become more susceptible to financial abuse, the consequences can be severe. Older people who forget to pay bills could lose their home to foreclosure, get evicted from an apartment, risk utility shut-off, or damage their credit. Those who fall victim to scams might get cheated out of large amounts of money or lose their home.
Our Daily Money Management service offers a solution to handling the business aspect of aging. Managing the day-to-day finances of seniors and help guard them against fraud. Assuming exactly the degree of responsibility the family wants and provide regular reports in the formats they find useful.
Our goals are to help seniors maintain their independence for as long as possible, while bringing peace of mind to families whose, distance, hectic schedules and multiple responsibilities make it hard for them to act as business administrators.
It is important to broach the subject of financial assistance with sensitivity. Many older people are embarrassed by their inability to handle their financial affairs. Others are afraid that by relinquishing control of money, they are losing a large measure of independence. Some believe that children or relatives want to steal their money.
Often, the best time to discuss this issue is before your elderly parent or relative needs help. Talk about what will happen if and when they need help managing finances, agree on some "trigger" events that might indicate they need help (for example, receiving account alerts), and come up with a plan as to how you will work together if and when that time comes. Most important, listen to what they have to say about the issue. Keep the focus on what they can do and make suggestions only for those tasks that you feel they need help with.
Scott is very personable and does a great job of walking you through the process so that he can include every possible scenario and get you the best possible return. You can bet I will be working with Scott for years to come.
Scott is wonderful! He helped me through some really rough tax issues after my husband passed away. If he feels that he isn't the best person to do the job, he offers wonderful referrals. I trust his accuracy and recommend him highly.
Scott Eaton is simply the best! I send all my clients his way. He really knows how to save you money on taxes and is great at explaining tax concepts to the average joe.
Very personable and able to communicate things in a way their clients can understand…it is refreshing to have an accountant who can get you the best return.
Kristy C.
I love Eaton's and have been a customer for almost a decade. The service has always been great. I never have to wait once I arrive. The receptionist Wendy has always been soooo nice on the phone and email. I highly recommend Eaton's. 🙂
I have been working with Katie for years after having worked with Scott for many many years on our taxes, and they are both so helpful and professional. Highly recommend Eaton's Tax Services. Entire staff is always so welcoming and helpful.
No suggestions. The staffare very attentive and concerned about the clients needs. It is a pleasure coming into the office.
Katie is amazing and wendy at the front was a huge help and even watched my daughter, who is a very active 1 1/2 year old, while I was with Katie.
Rocky was amazing! Very intelligent and instantly earned our trust. He made sure that we weren't just checking boxes and inputting numbers, but also taking time to understand the tax laws and different nuances we came across. We appreciate the time he spent with us and will definitely be back next year.
Let us know! We appreciate your feedback on Facebook and Yelp!